BEHF Architects delivers a thrilling work environment for A1 Telekom Customer Service Center
With an area of 6.5 m² net usable space per employee, BEHF Architects creates an extraordinary spatial experience on 1,800 m² of reconfigured existing space for 280 employees.
The design draws its inspiration from the basic structures of urban planning. The entire space of the Customer Service Center is divided into three functionally distinct zones: "Central Park", "Boulevard" and "The Studio". Each of these areas contains a thematic emphasis that is formally reflected in the design.
The middle zone, as "Central Park", functions like an urban park, a place for everyone to refresh. It contains meeting rooms, smoking area, fitness center, relaxation area and kitchen. Different in color and design they appear as separate spaces in a landscape park, yet remain part of the overall composition.
The arrangement of the desk groups evokes the principle of a "Boulevard". Linear and yet slightly offset, they follow the flow of space and thus structure the open-plan office. This is supported by the arrangement of the plants on the shelves which organise the desks into groups. The individual work station is the private zone of concentration: "The Studio". The design concept allows for highly concentrated, yet simultaneously urbanistic experience zones. Another design guideline has been to translate the functional requirements into a richly emotional design.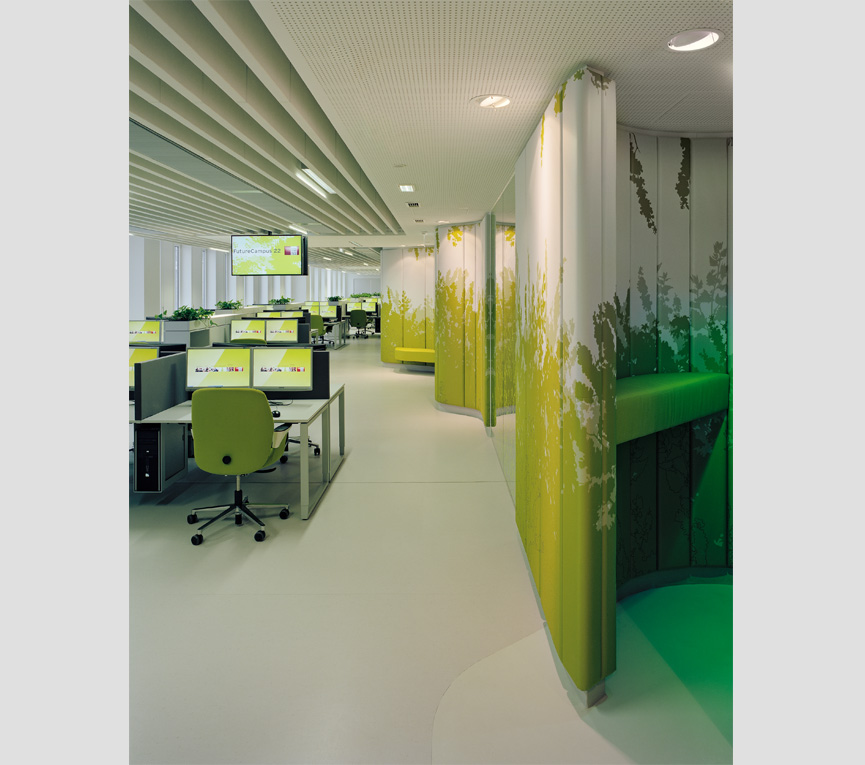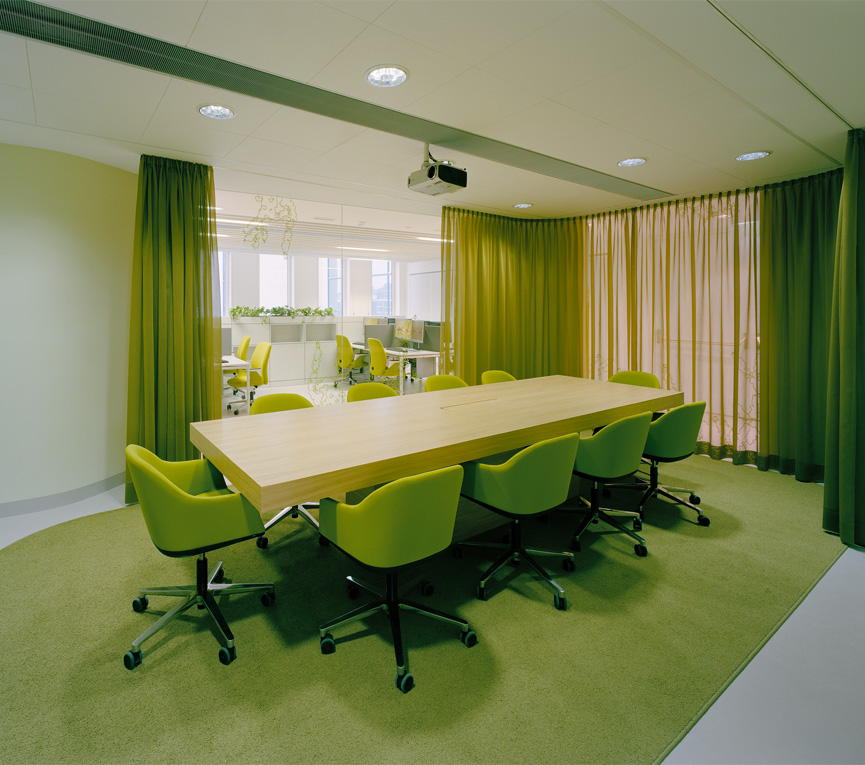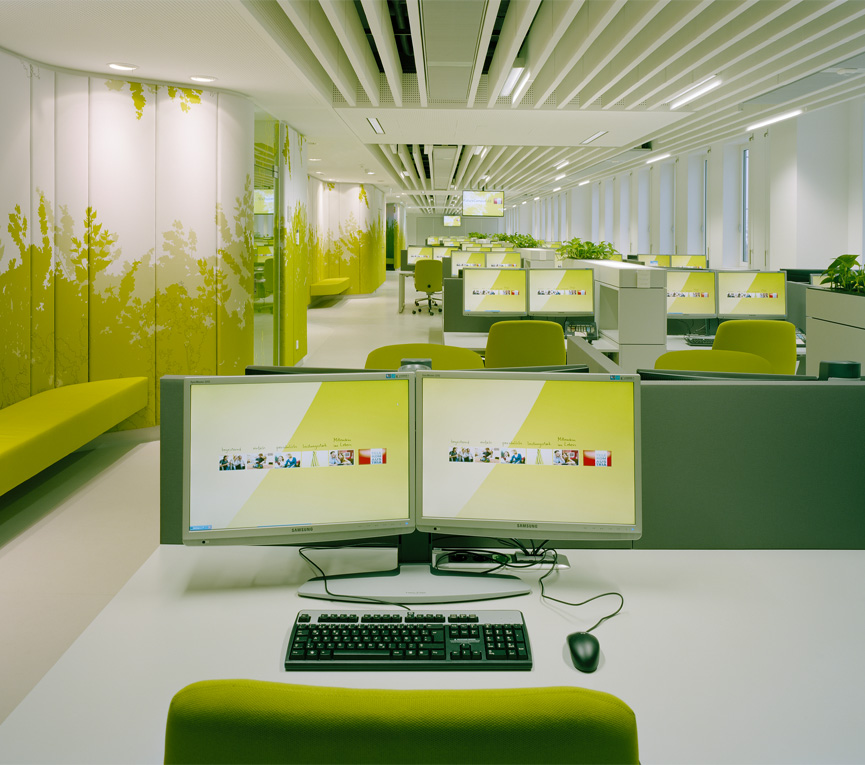 The bright colour of the floor and the walls stands in harmony with the colourfulness of the desks, simultaneously creating a contrast with the "green" middle zone. Desks have been developed specifically for the Telekom Customer Service Center and adapted to the work processes.
The decorative outer walls of the interior spaces – imprinted with the green park motif – function as the most important acoustical absorber. At the same time they are removable and allow the employees to determine the level of communication of concentration needed for performing the tasks effectively.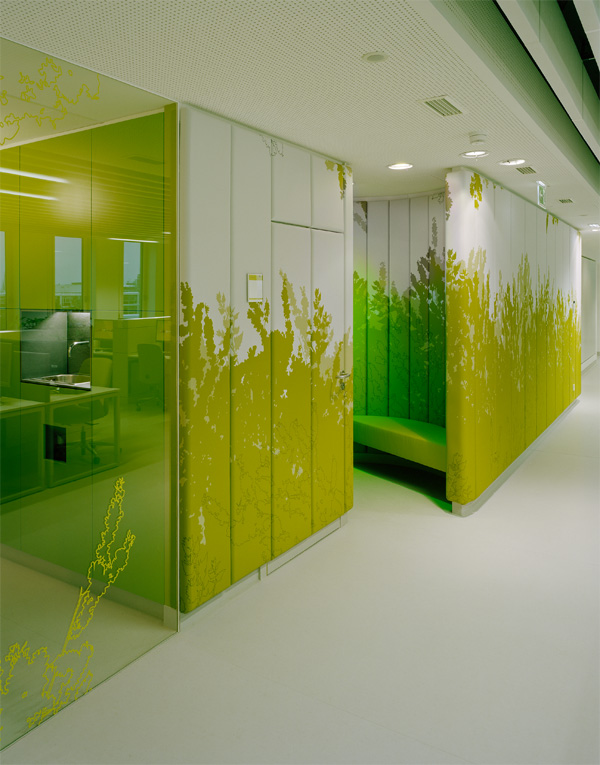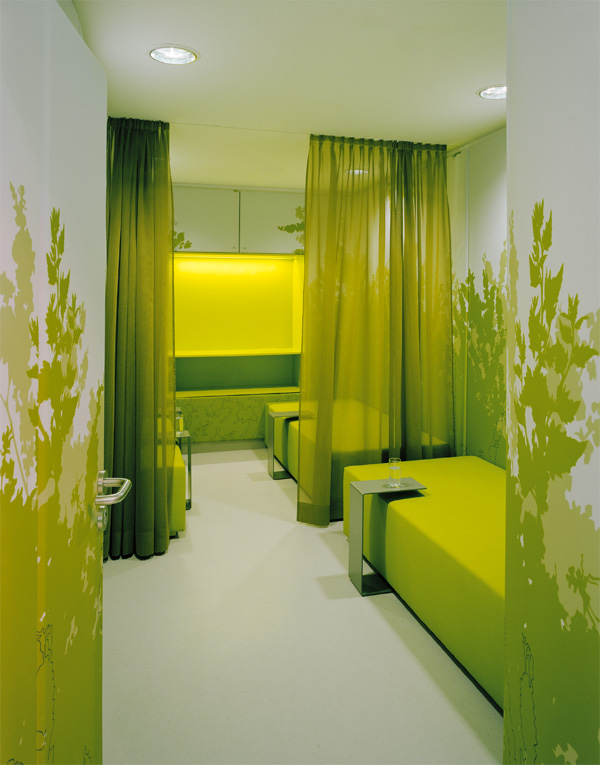 The decision to renovate an existing structure has made sense both ecologically and economically. The underlying ecological thinking is reflected in the use of renewable materials. The socio-cultural quality can be rediscovered in the added functions and spaces, which have been intended to extend beyond the pure value creation of an individual work space.
The artistically sophisticated solutions add an emotional level to functional needs, and are likewise a part of the overall design concept for sustainability.