In Villach, the second-largest city in Carinthia and most important transport hub in the south of Austria, the retail centre Neukauf Villach has been built on an area of 15,600 square metres. The 23 shops, the high-end, artfully designed shopping boulevard as well as the huge, reflecting canopy contribute to a unique and exciting shopping experience at the Neukauf Villach. A total of 485 parking lots right in front of the shops ensures maximum convenience for the customers.
The newly-created roundabout on Bruno-Kreisky Street is the main interconnection to the project-related property. All delivery and transports to and from the shops take place independently from the customer traffic – through a separate entrance at the rear side of the premises. The parking lots are situated in the center of the property and are encircled by the curved shape of the building. Due to this feature, all shops are easily accessible and at approximately the same distance.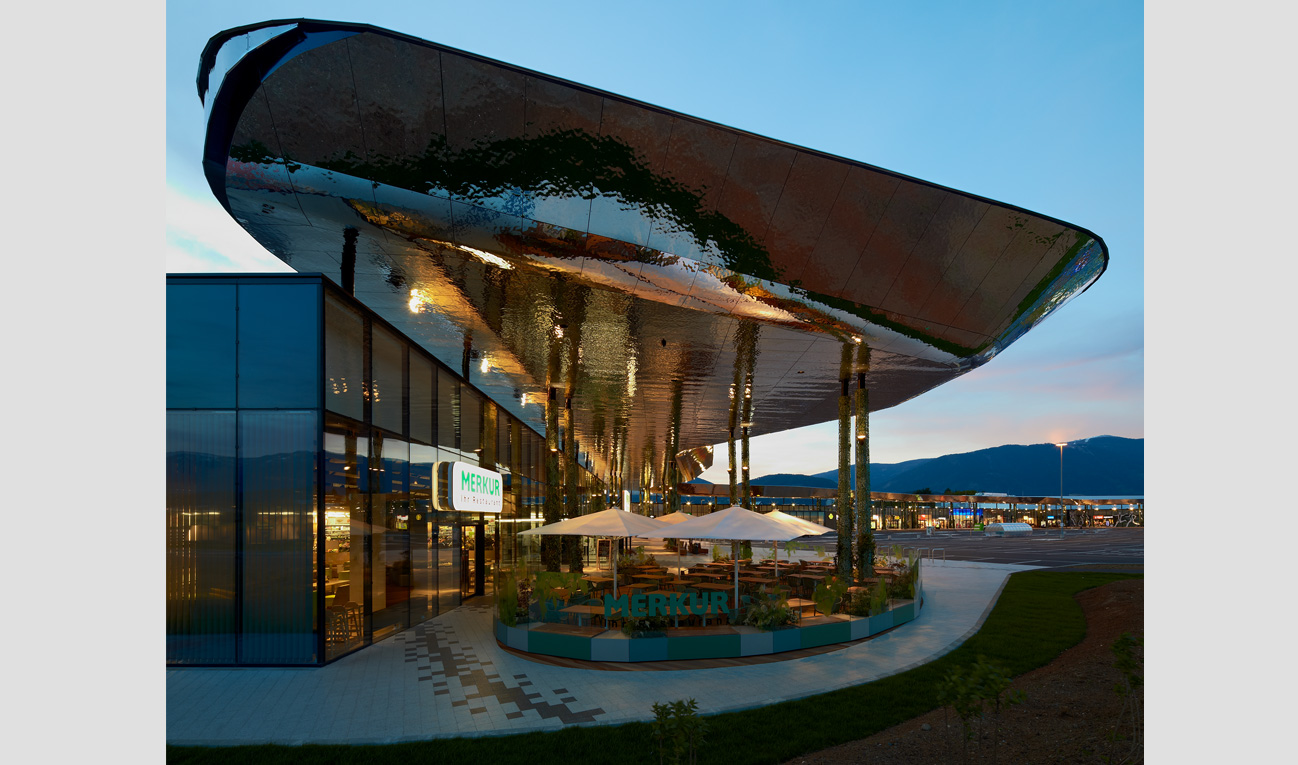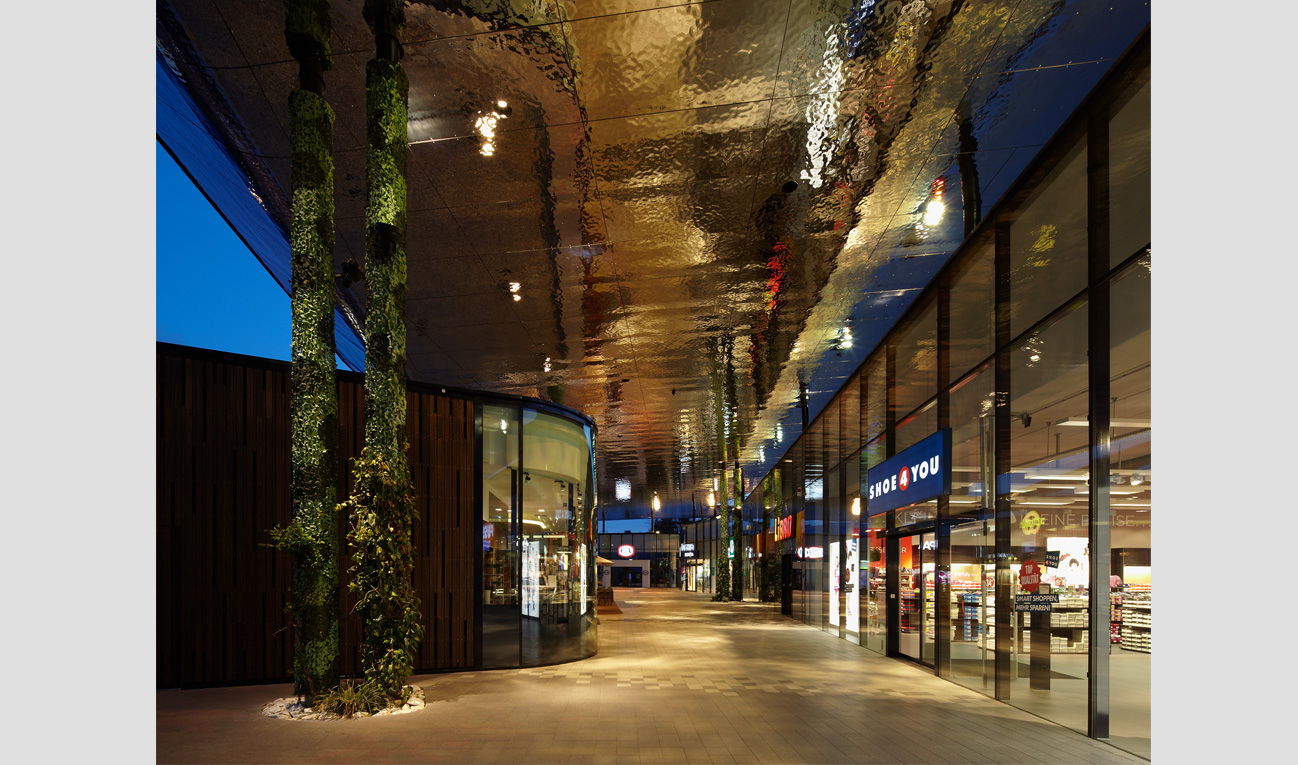 The sophisticated all-glass facade is stretching out over the whole view area and follows exactly the curved shape of the building. The canopy, which is supported by an elaborate steel construction, is covered with a cladding made of shiny, organic-shaped stainless steel sheets covering a total area of 15,600 square metres.
This cladding of the canopy provides a lively reflection of the busy life along the shopping boulevard. During the evening hours, a specially designed lighting concept intensifies this spatial experience for the visitors.
In the case of the shopping boulevard and the slim pillars of the canopy, the concept of the thoroughly landscaped outside areas is implemented by the use of climbing plants. These "green" pillars below the shiny canopy create a unique, lively and relaxing atmosphere. The visitors feel like they are walking through the green oasis.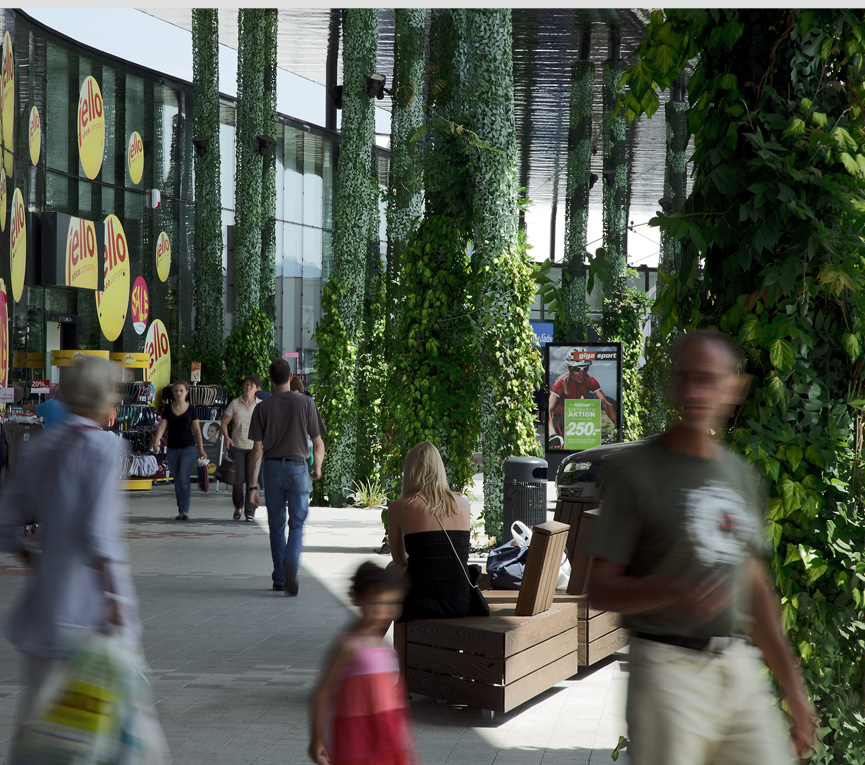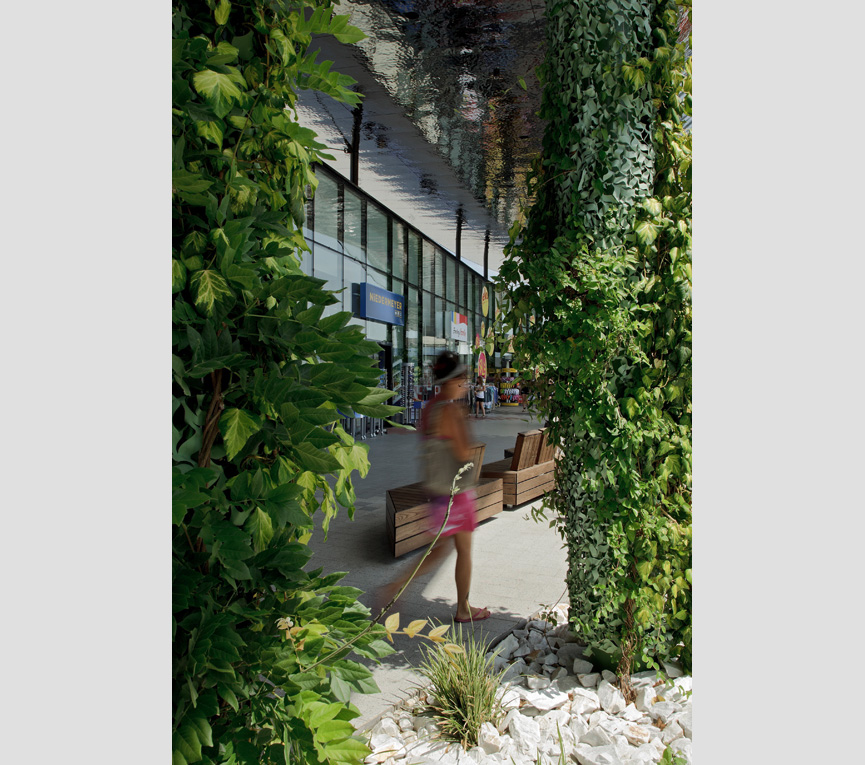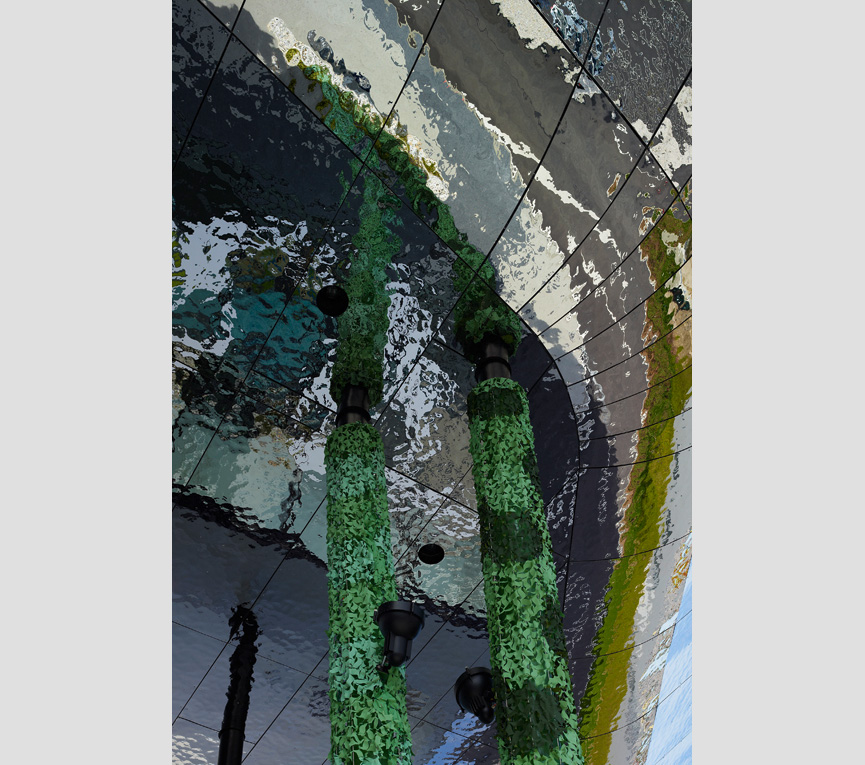 The unusual plantation has inspired Austrian artist Franz Graf to create a special floor pattern and facade motifs for the centre. The Neukauf Villach features floors that replicate the look of a river and evoke the movement of water. The green pillars look like the trees located in the water which runs below the canopy, slowly flowing into the interior.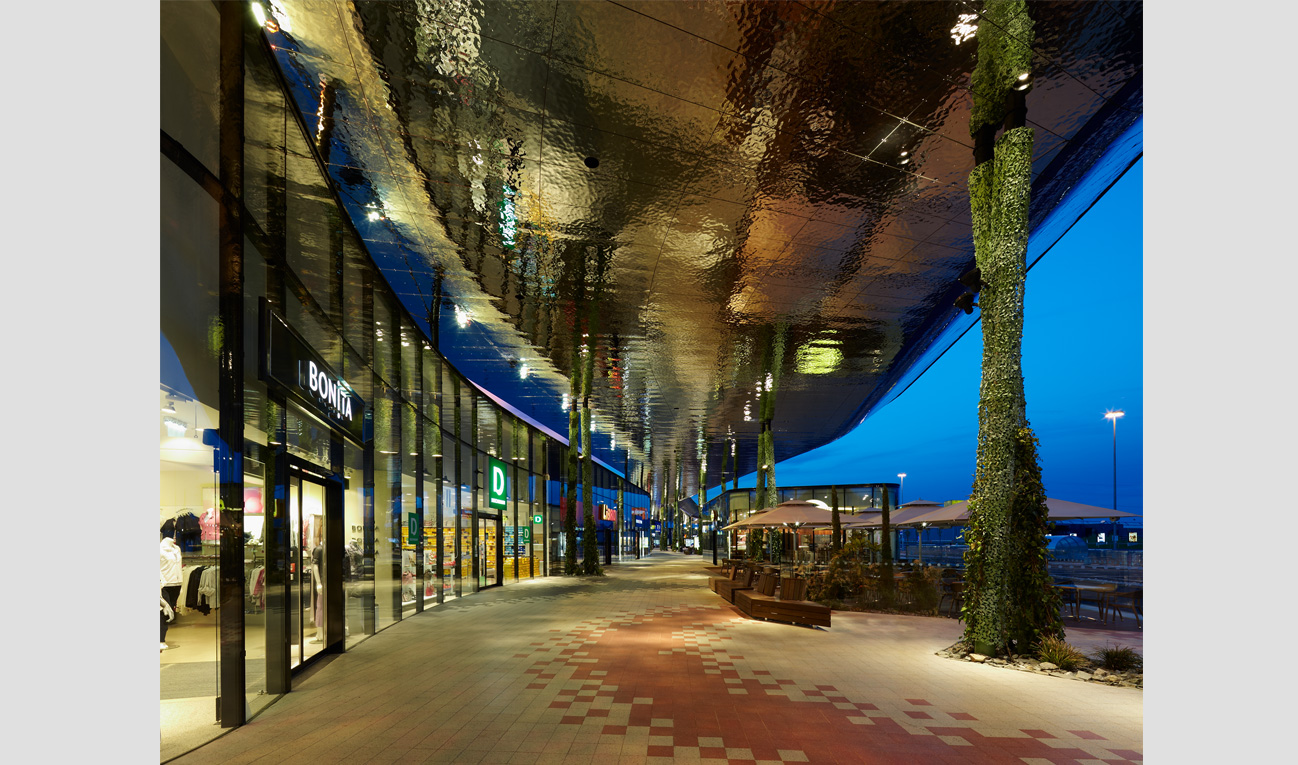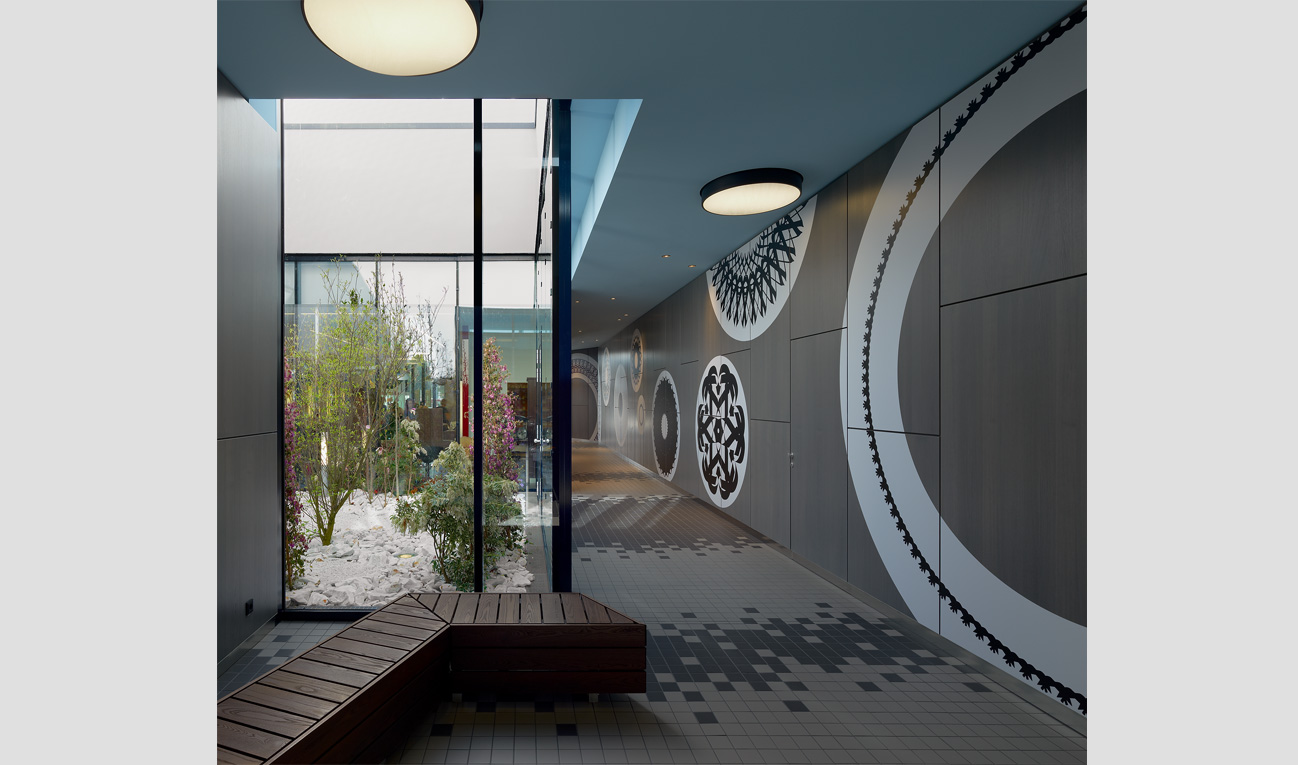 The Neukauf Villach is an ideal social venue, whose qualities are enhanced by a comfortable outdoor dining area in front of the food market, by another green outdoor dining area at the end of the shopping boulevard as well as by an exquisite gastronomy pavilion situated in the center. The first outdoor dining area is protected from the nearby street by a landscaped hill and additional bushes.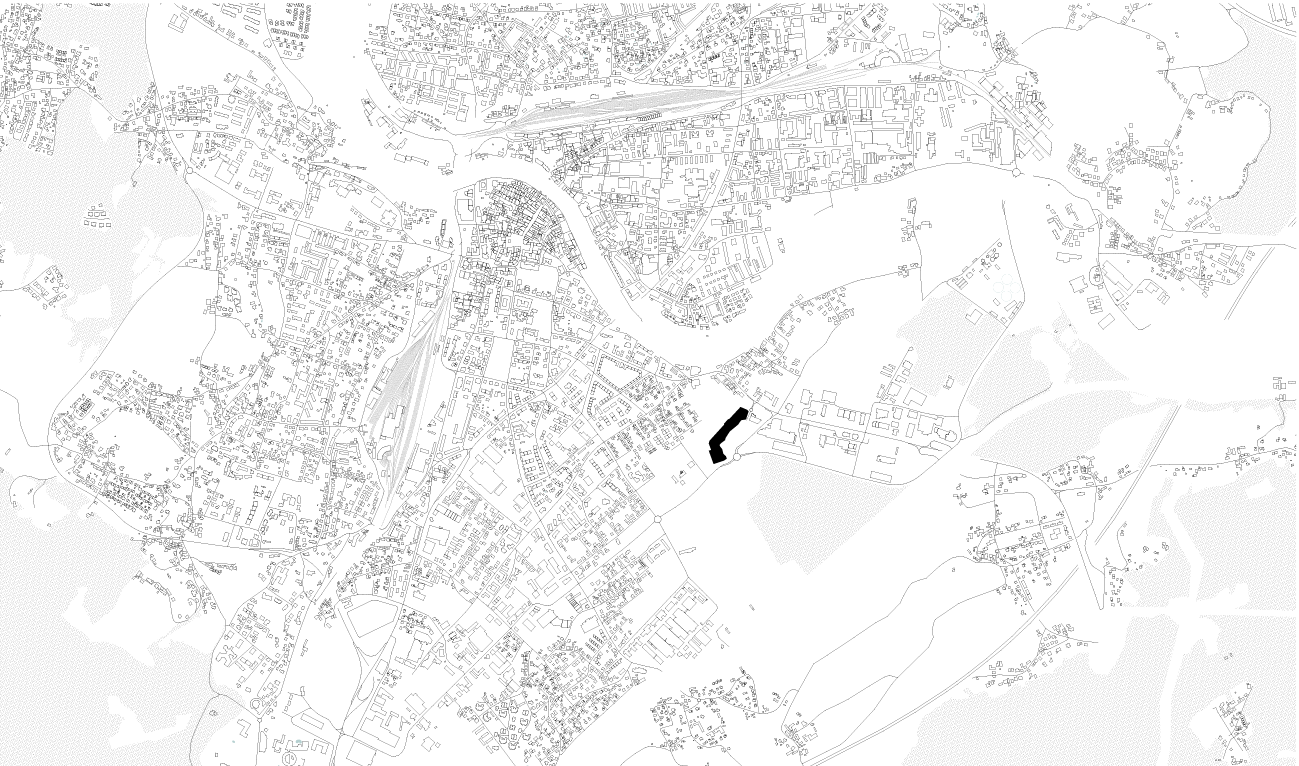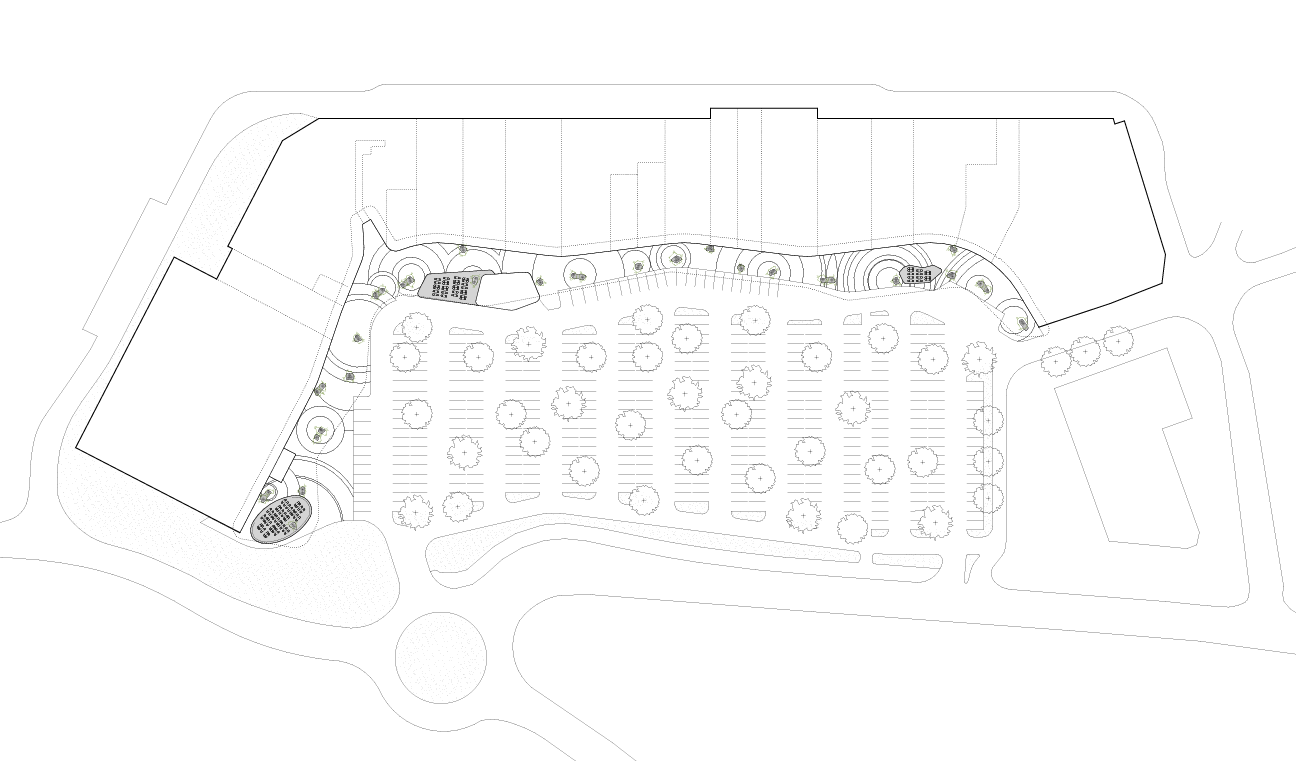 In accordance with the guiding principle of "keeping in the inside what the building promises on the outside", all the shops were designed and built in line with the highest standards regarding interior design and technical specifications. BEHF Architects was once again successful in creating an architecturally excellent and economically efficient retail property.