The former historical telephone exchange was converted into an inspiring office building
In today's Lehárgasse No. 7., hidden behind the magnificent 19th century facade lies an architectural treasure: a former telephone exchange for K. und K. Post- und Telegrafendirektion (postal and telegraphic administration) with two historic telegraph halls designed by the architect Eugen Fassbender. After spending the last decades in a deep sleep, the telegraph office under a preservation order has been converted into a contemporary office building by BEHF Architects in coordination with the Federal Monuments Authority Austria (BDA).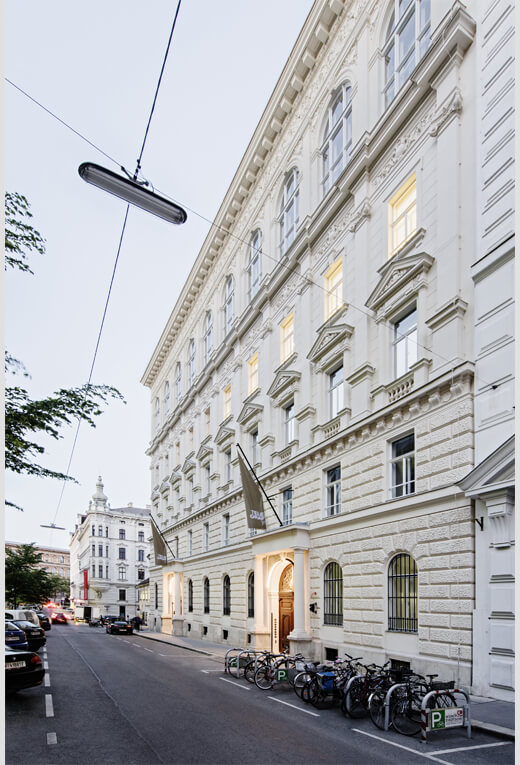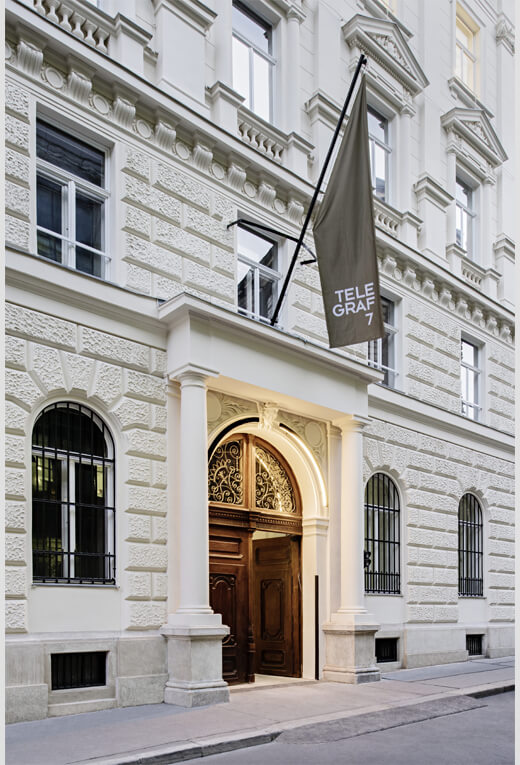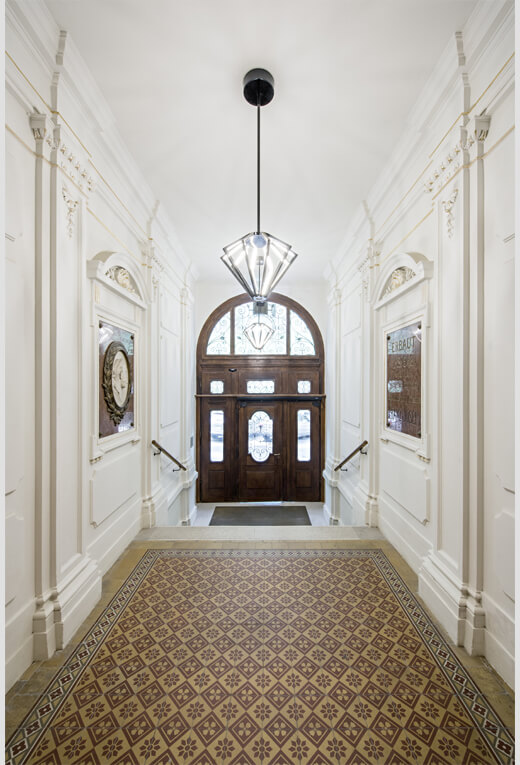 Two halls with particularly high ceilings on the main floor represent the heart of this architectural project. The task has been to connect both halls and create a new space for the headquarters of the real estate agency JP Immobilien.
The centre of the architectural concept are two minimalistic glass boxes that serve as work space and seem to be detached from the existing historical inventory, looking like large pieces of furniture: a room-in-room construction, which has been placed into the opulent telegraph halls featuring stuccos restored true to original, and colourful wall paintings. The historical fabric remains unaffected and finally becomes visible after years of being hidden from the public. Therefore, the room itself is a great highlight.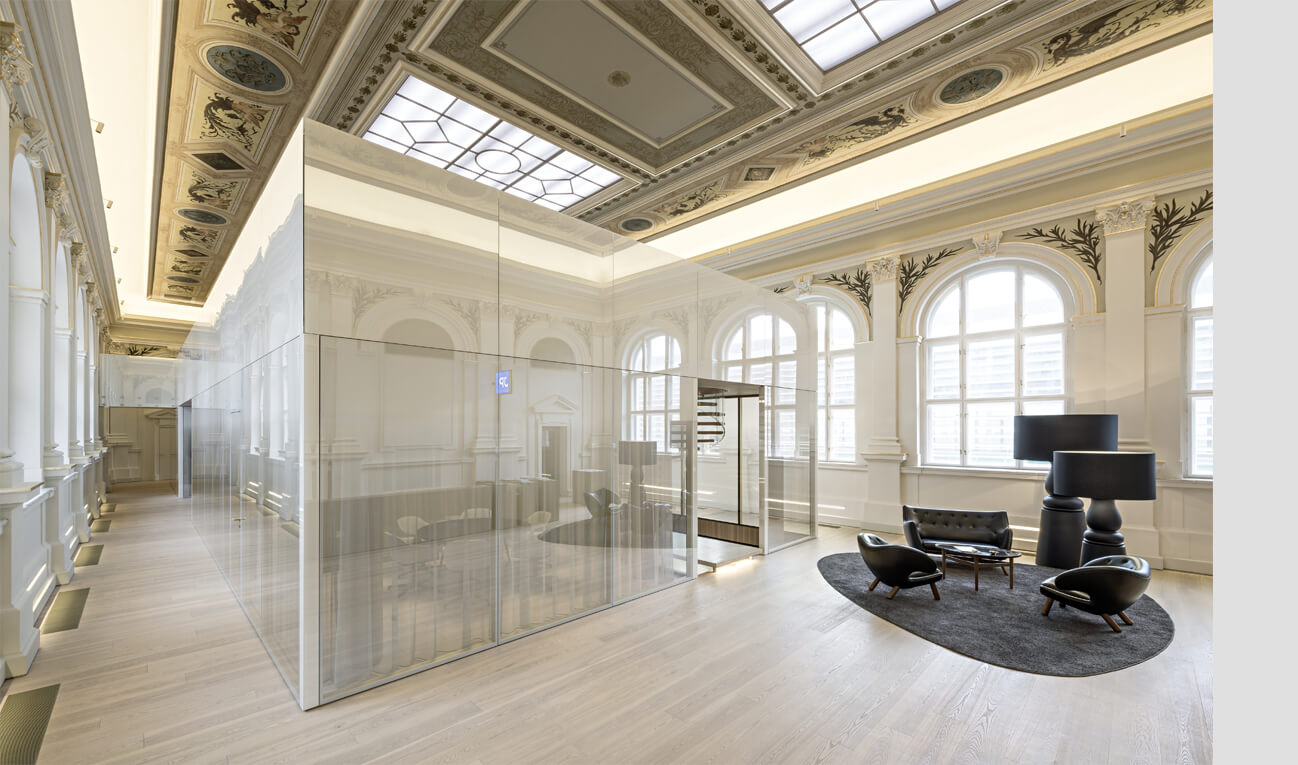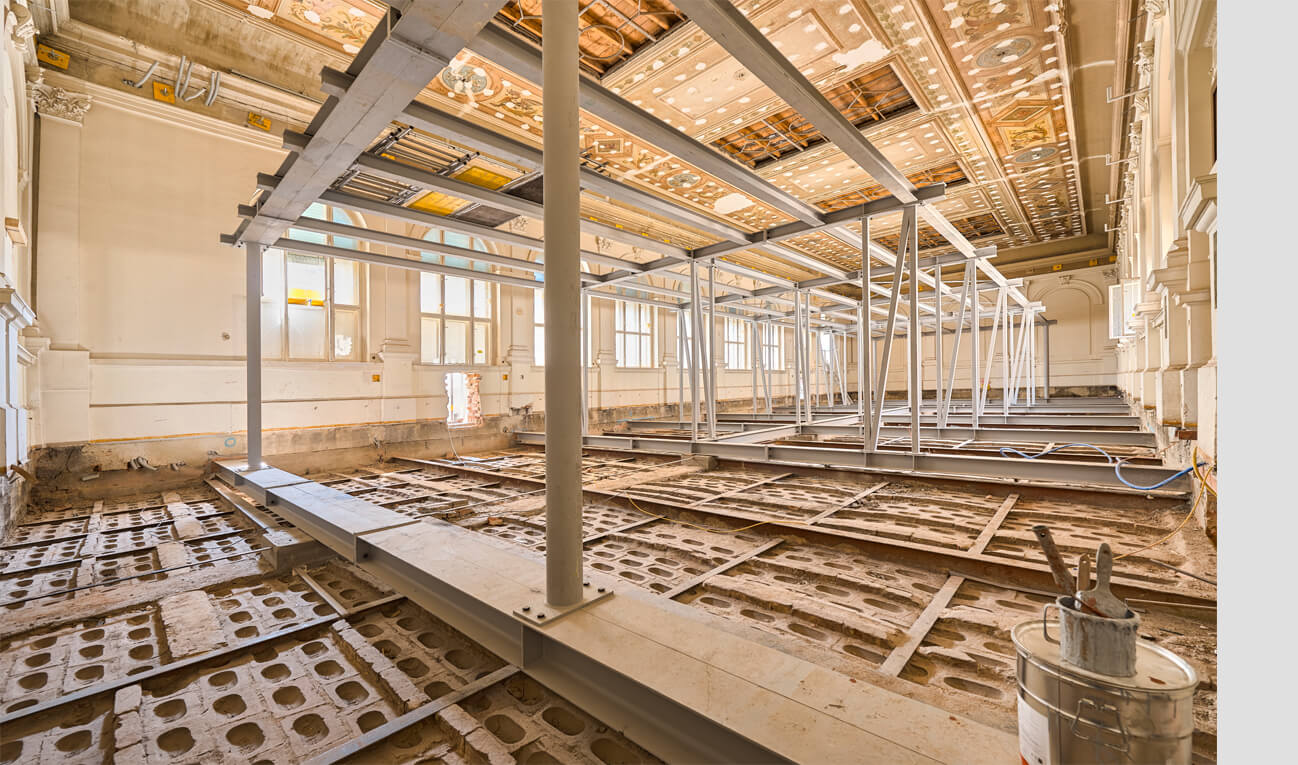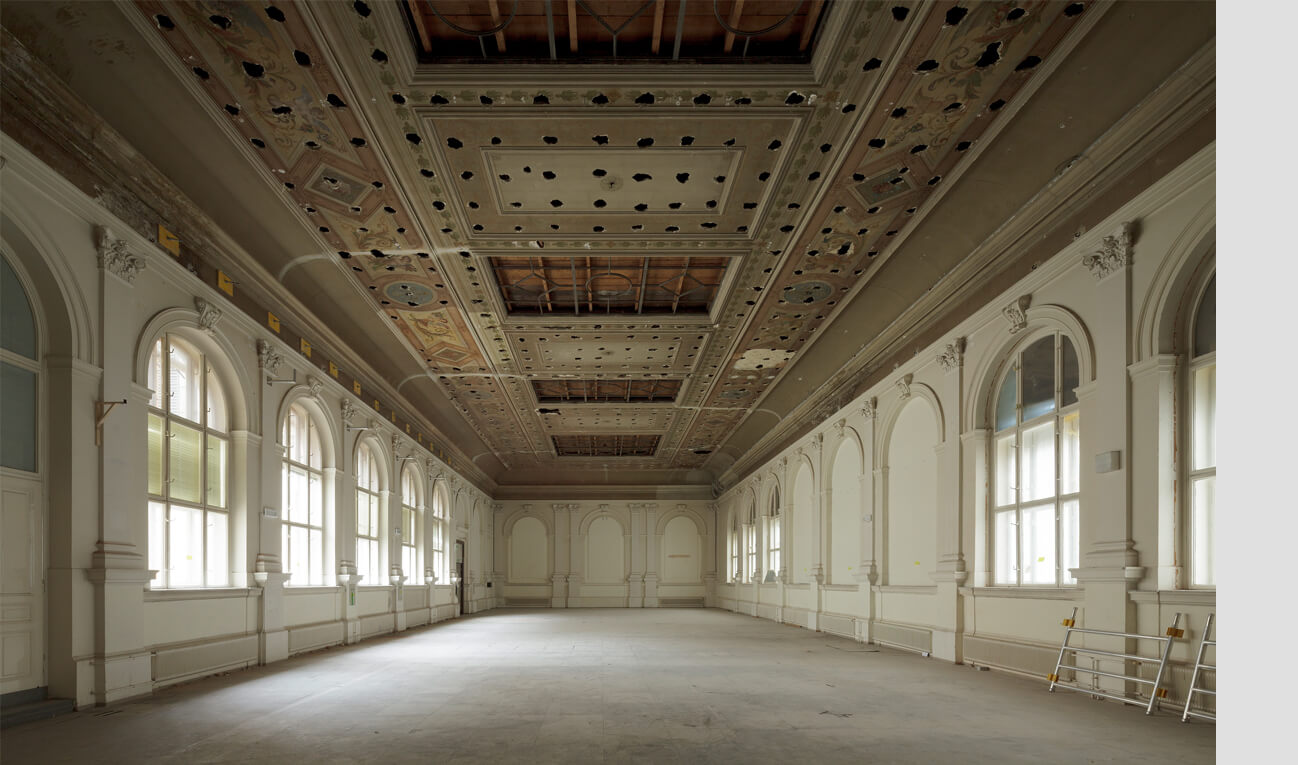 The interiors of the two glass boxes accommodate various offices and conference rooms. A neutral, multi-purpose area used as event zone respectively open-plan office is located on top of the boxes. From there, bridges penetrate the historic walls and connect the upper levels with several secondary rooms.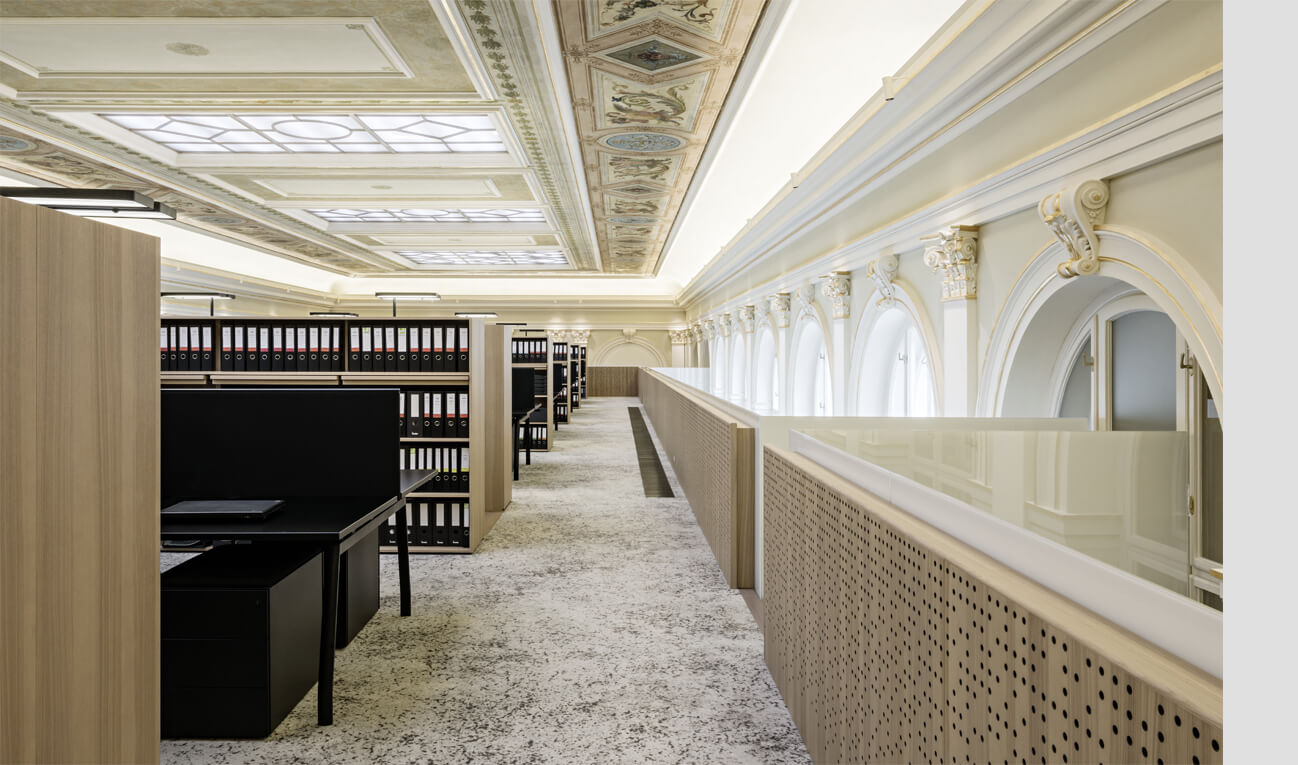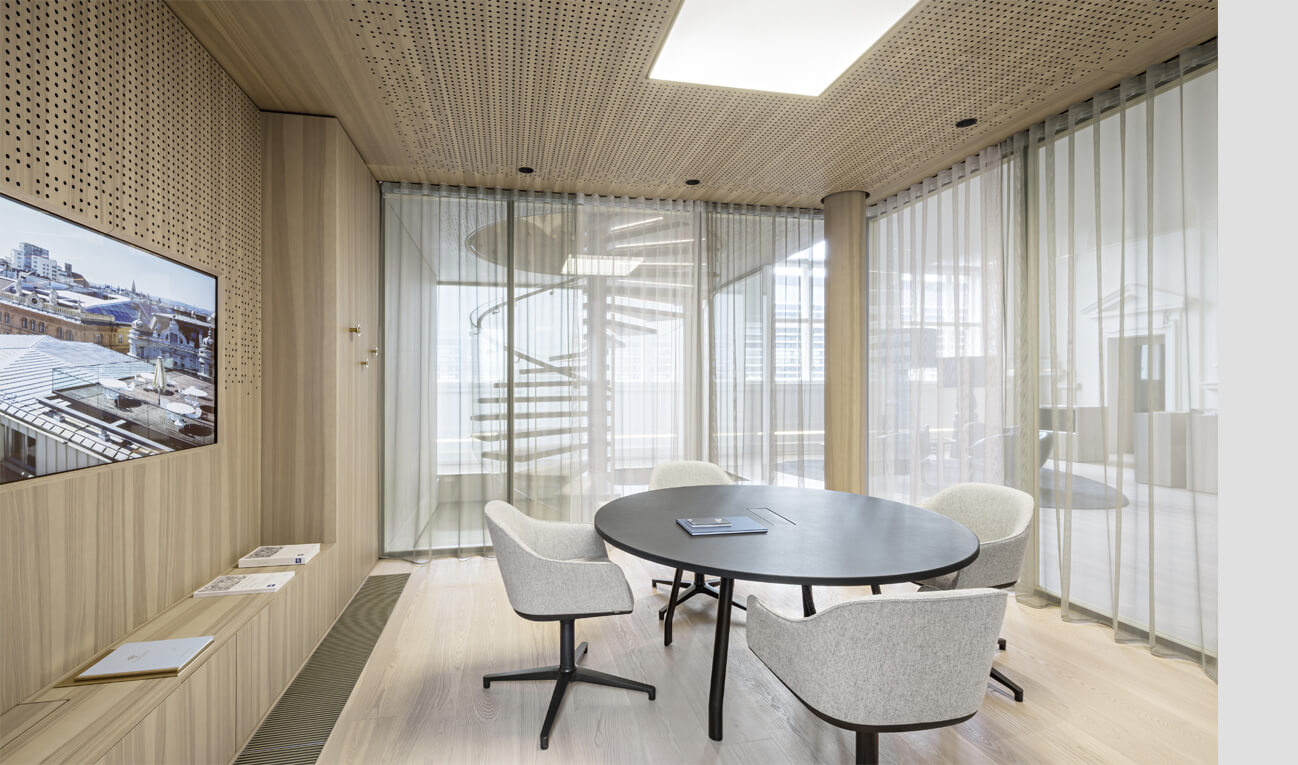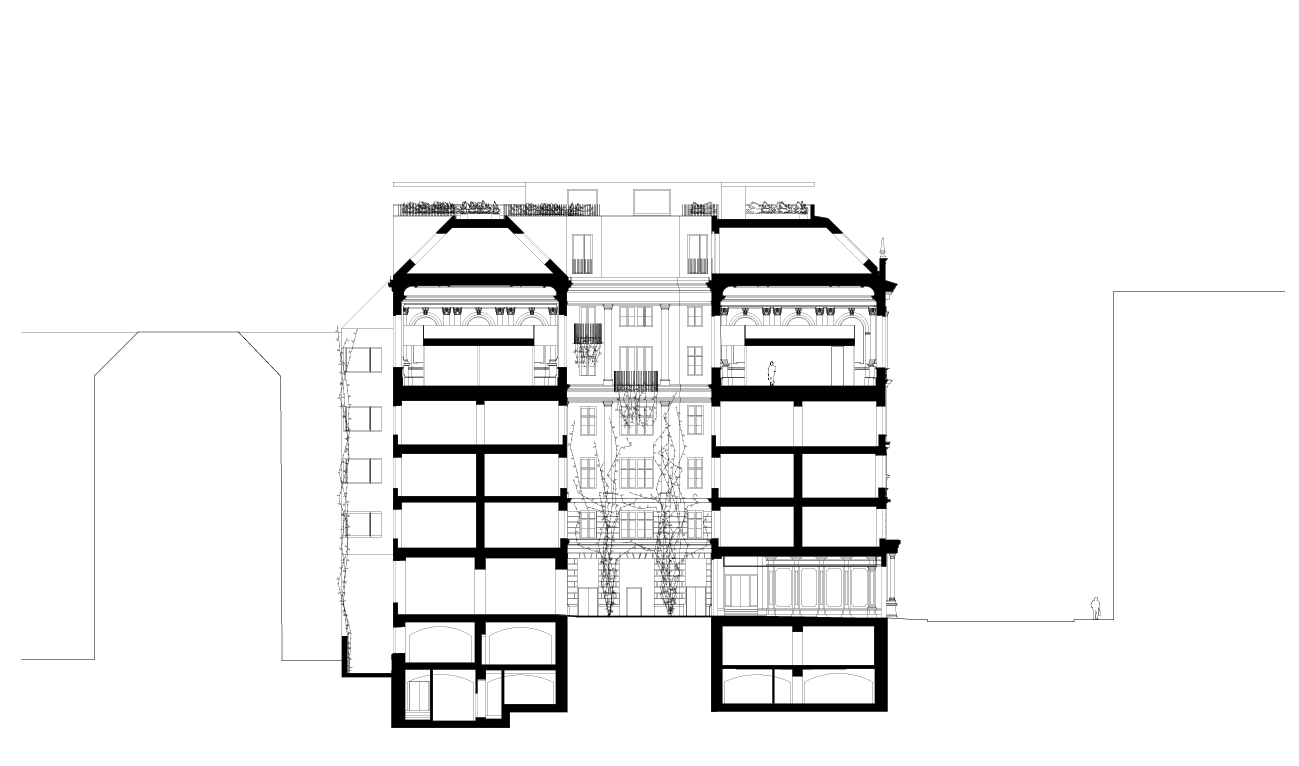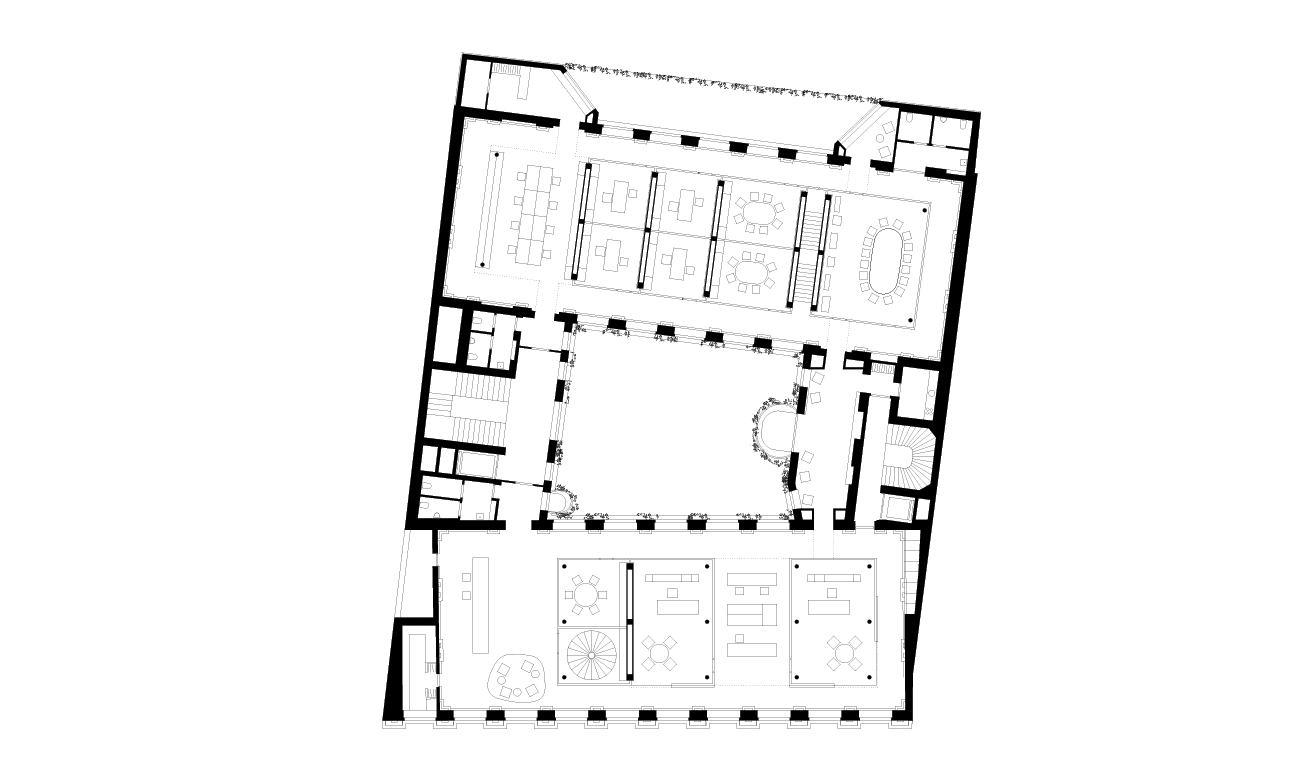 In order to make the glass boxes appear light, almost hovering, BEHF Architects chose a continuous flooring. A slightly mirrored glass cladding reduces the massiveness of the inserted architectural elements. By means of a screen-printing technique, an additional frosted layer has been applied to the glass walls, whose pattern intensifies towards the top. This way, all functions which require separate rooms are hidden, while the pedestal area stands out due to its open, transparent appearance.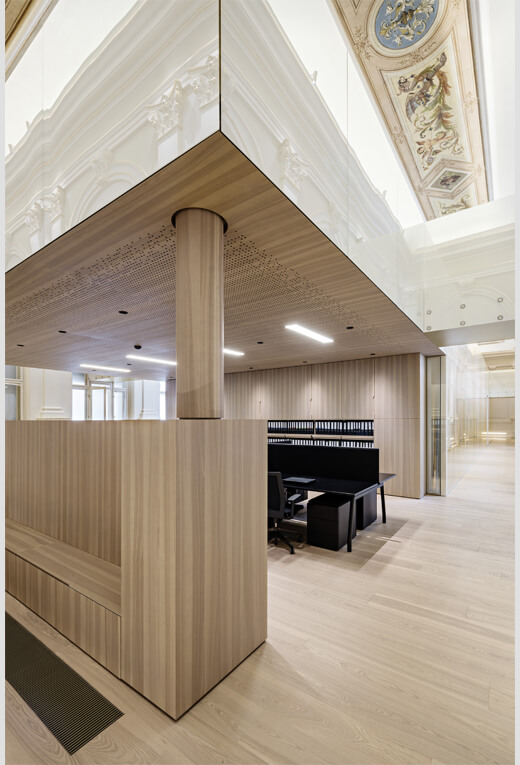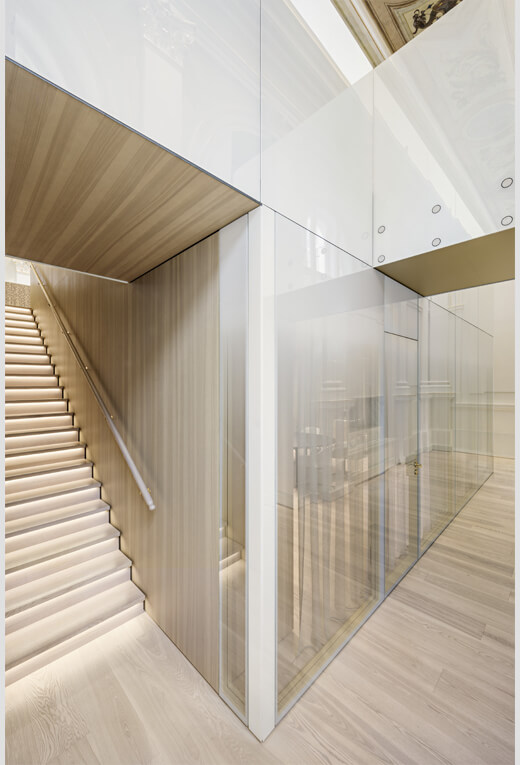 In the entrance area and in the staircase, minimalist additions complement the historic architecture. The entire surface of the entrance portals leading to the elevator and to the offices is made of brass, while intarsias have been installed on a terrazzo as floor designation. In addition, highly polished brass has been fitted to the bottom view of the balconies facing the inner courtyard, so that the plants on the ground are being reflected.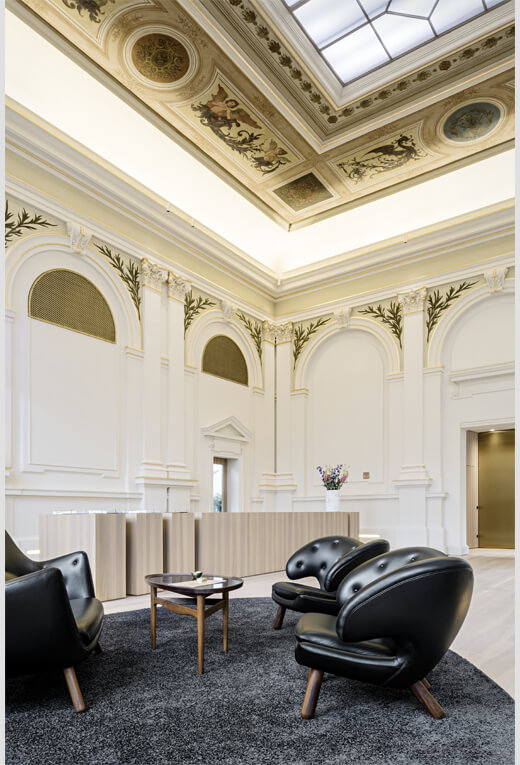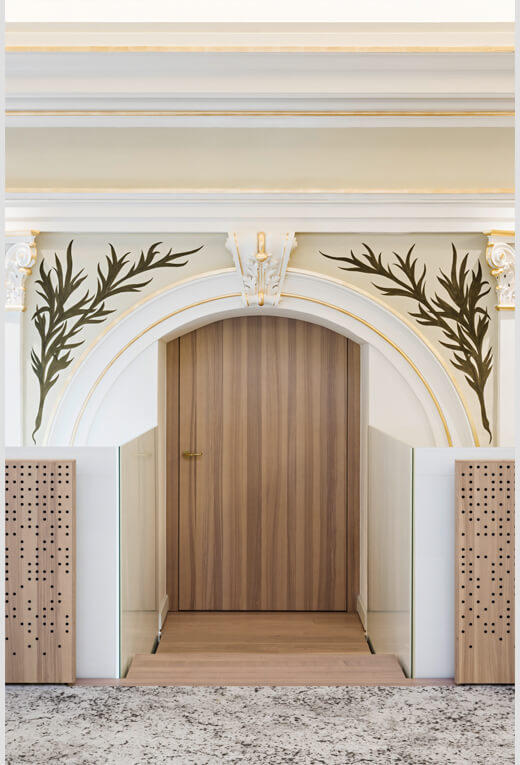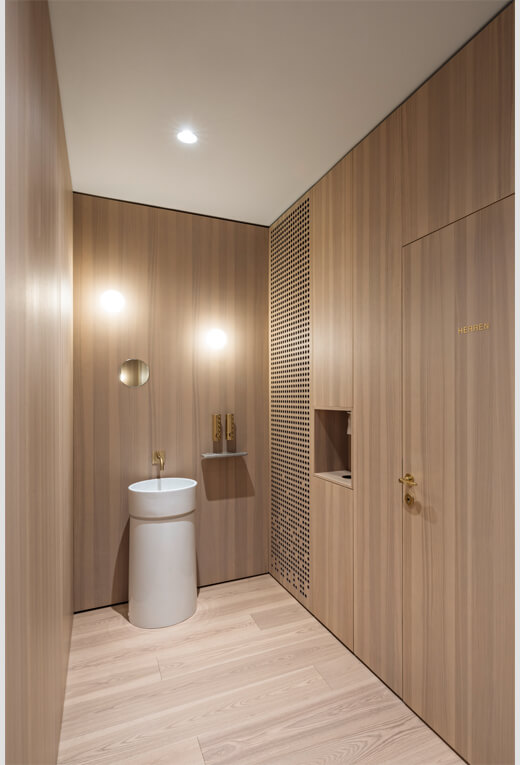 Both the design concept and the lighting concept follow the principle of drawing attention to the historical substance as precisely as possible, while giving the room a functional or atmospheric effect as well. In doing so, the basic motif of blurring boundaries always prevails.
The architects' vision to sensibly connect the historical substance with new architectural insertions has resulted into a unique dialogue of past and present.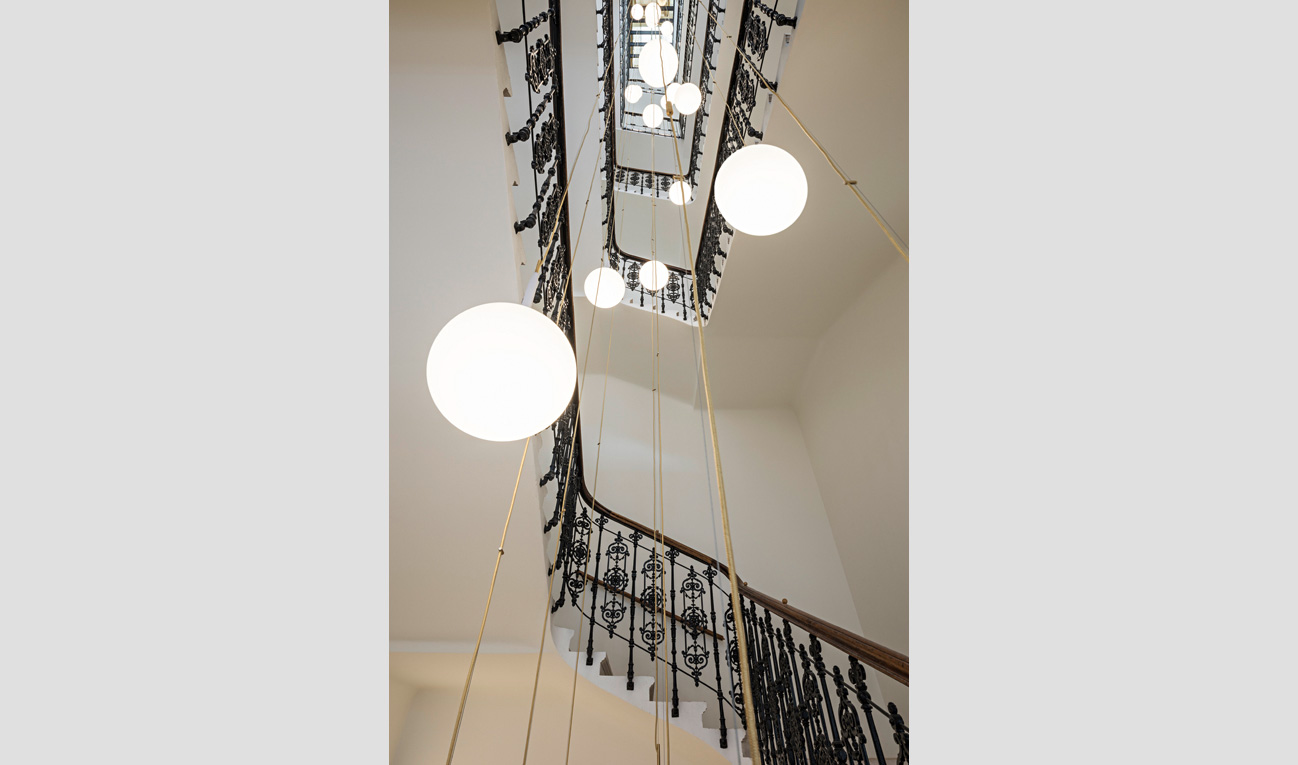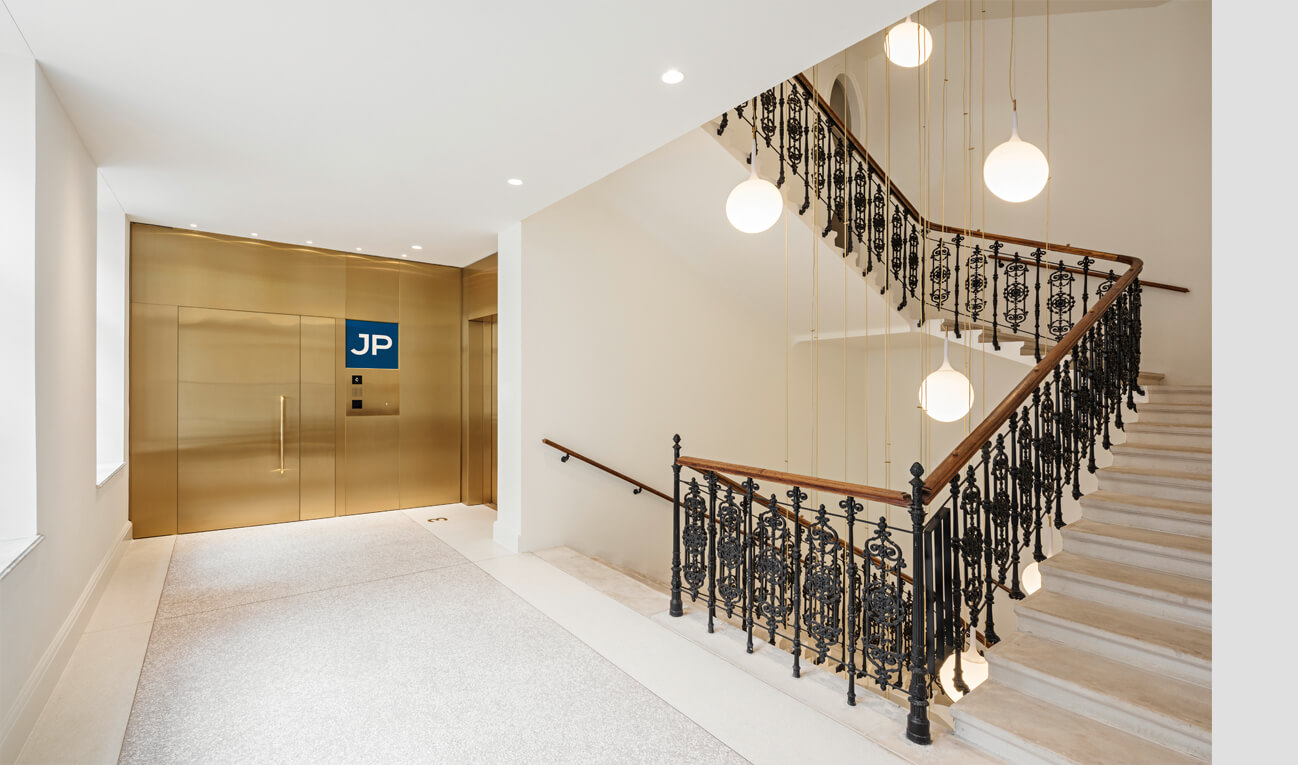 Awards
The International Architecture Award 2018, Winner
Telegraf 7, Office JP Immobilien
IDA – International Design Awards, 2018, Interior Design / Office, Silver Winner
Telegraf 7, Office JP Immobilien
IDA – International Design Awards, 2018, Interior Design / Renovation, Bronze Winner
Telegraf 7, Office JP Immobilien
FIABCI Prix d'Excellence Austria 2018, Finalist
Telegraf 7, Office JP Immobilien
Architizer A+Awards 2018, Finalist
Telegraf 7, Office JP Immobilien
German Design Award 2018, Winner
Telegraf 7, Office JP Immobilien
American Architecture Prize 2017, Winner In Two Categories
Telegraf 7, Office JP Immobilien
Best Architects 18
Telegraf 7, Office JP Immobilien
ICONIC Awards 2017, Winner, Architecture
Telegraf 7, Office JP Immobilien